Living in America, we sometimes get so caught up in the lifestyle here that we forget about our own cultures. Or maybe we haven't forgotten but can't find enough opportunities to celebrate our cultural identities. On February 20, it's your chance to reconnect with your heritage and embrace your inner Asian. This year, USC CASA (University of Southern California Chinese American Student Association) is putting on their 12th annual culture show, Legacy, to remind us of why we should never let go of our ancestral roots.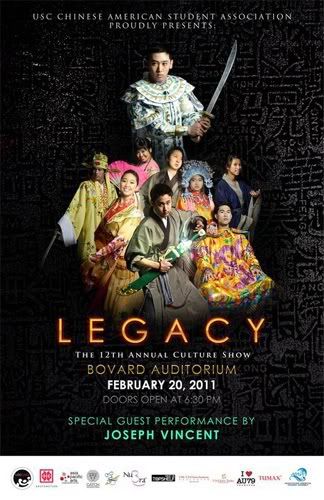 This student-run production takes us onto the journey of a contemporary young man, Jason Wu, from Los Angeles who one day finds himself in Imperial China, struggling through the unfamiliar land to find his way back home. However, trouble strikes upon the dynasty and to break the commotion, our hero must go face-to-face with history. The time travel theme may be cliché, but his search to reconnect with this Asian roots makes it a meaningful watch. Not only can you expect to see talented acting, you can also anticipate guest performances such as hip-hop dance and martial arts. Joseph Vincent has confirmed to be on the show as their special guest as well, and to be able to see a YouTube hottie live is always a plus!
Speaking from personal experience, I have thoroughly enjoyed last year's culture show that also touched on the issue of identity crisis. I am not just saying this because I am a proud sister of last year's CASA culture show director, but because it is amazing how the art of performance can always remind us to never lose track of who we are.
Please show your support for the college Asian community and honor your Asian identities! It's FREE! For more information, visit their official website or their facebook event page.
Here's a teaser video for you:
http://www.youtube.com/watch?v=7aUCNyJNf7I
DETAILS
Date: Sunday, February 20, 2011
Time: Doors open at 6:30pm; Show starts at 7pm
Venue: USC Bovard Auditorium
3551 Trousdale Parkway, Los Angeles, CA 90089
Cost: FREE admission, but be sure to pick up a ticket before they run out by contacting Cathy Liu (cathyliu@usc.edu) or by making a reservation here