It's December and winter is finally here! Though it's still about 70 degrees here in Los Angeles as I write this, it's bound to get chilly soon so it's time to stock up on some winter clothes. This season, wear a coat to keep you warm through the cold days. There's a ton of coats out there and that makes it difficult to choose which one to buy. Here, I breakdown the things you have to consider when choosing a coat.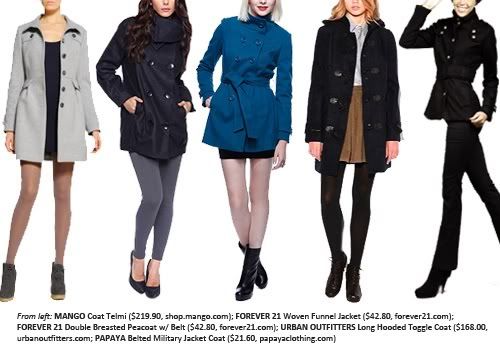 Length: If you're looking for something more mature to go with your formal looks, go for something longer, like one that's down to your knees. Avoid going any longer if you're not especially tall; you don't want your coat to wear you. Coats that are too long for your figure make you look even shorter. For more casual outings, keep your coat at hip-length or above. Being only 5'1″ myself, I went for a coat that goes down to my hips, which is a very versatile length to dress up or down.
Color/Pattern: Normally, people go for black or dark gray because they go with virtually every outfit. This is a wise decision, but make sure you have your lint roller ready! If you're feeling bold, try a sharper color, like red, teal or purple. Looking for something in between? Camel tone is a popular choice. There is also the option of going for a pattern, like houndstooth, tweed or plaid.
Buttons: Buttons are one of the main features of a coat. Double-breasted peacoats are the most common, but there are also single-breasted coats. There can be buttons down the whole front or just the top half. The types of buttons defer as well, such as plain, military or toggle. Buttons are really just a personal preference, so just choose what you like.
Detailing: The different styles of coats are expanding. If you like ruffles, some coats have ruffled bottoms or collars. This also applies to faux fur. Personally, I don't prefer either because they make coats seem even chunkier, but do take into account that I am petite in size. But if you like them, I say go for it!